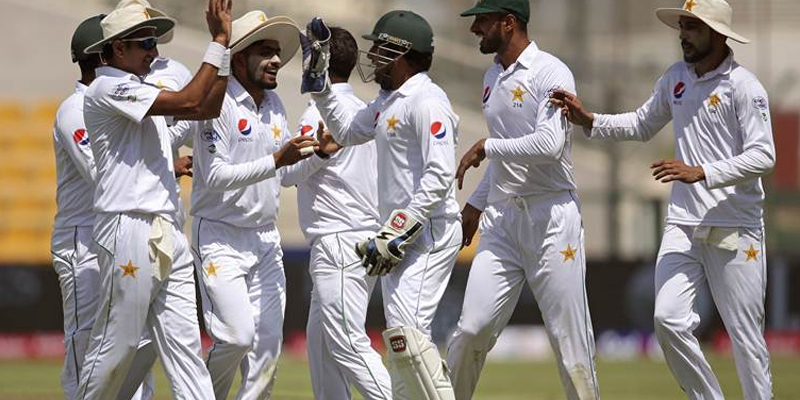 سری لنکا سے شکست کا انتقام لینے کیلئے پاکستان کرکٹ ٹیم میں اہم تبدیلیاں!!
  

جمعہ‬‮

 

6

 

اکتوبر‬‮

 

2017

  |  

11:24
دبئی (مانیٹرنگ ڈیسک)پاکستان اور سری لنکا کے درمیان دوسرا ٹیسٹ میچ آج دبئی میں کھیلا جائے گا ۔یہ میچ ڈے اینڈ نائٹ ہو گا ۔ پاکستان کرکٹ ٹیم کے کپتان سرفراز احمد نے کہا ہے کہ سری لنکا کے خلاف شروع ہونے والے دوسرے ٹیسٹ میچ میں ان فٹ حسن علی کی جگہ وہاب ریاض ٹیم کا حصہ ہوں گے۔دبئی میں میڈیا سے گفتگو میں ان کا کہنا تھا کہ بیٹنگ لائن میں تبدیلی نہیں لائی جارہی۔سرفراز احمد نے کہا کہ یہی نوجوانبیٹسمین رہیں گے، امید ہے اچھا کھیل کر میچ جیتیں گے۔سرفراز احمد نے کہا کہ ابوظبی ٹیسٹ جیتنا
چاہتےتھے لیکن اب دباؤ میں ہیں۔اس موقع پر سری لنکن کپتان دنیش چندی مل نے کہا کہ یاسر شاہ عمدہ اسپنر ہیں. اُن سے نمٹنے کی منصوبہ بندی کی ہے، پچ دیکھ کر
اندازہ ہوتا ہے کہ دونوں ٹیموں کے اسپنرز میں مقابلہ ہوگا۔چندی مل نے کہا کہ وننگ کمبی نیشن کو تبدیل نہیں کرنا چاہتے، دونوں ٹیموں میں سخت مقابلہ ہوگا۔
Dubai (Monitoring Desk) The second Test match between Pakistan and Sri Lanka will be played today in Dubai. This match will be Day and Knight. Pakistan Cricket Team captain Sarfraz Ahmed has said that in the second test match against Sri Lanka, he will be part of Wahab Riaz's place in the place of Hasan Ali Ali. Talking to media in Dubai, he said that in the batting line Sarfraz Ahmed said that this will be the young batsman, hopefully he will win the game by playing well. Sarfraz Ahmed said Abu Abi won the test.
Sri Lanka captain captain Danish Chandi Mill said that Yasir Shah is a good spinner on this occasion. The plan is to cope with them, the pitch estimates that the teams will compete in the spinners of the match. Chandya Mill said that the wing would not want to change the nation's national elections, both teams would have a tough fight.